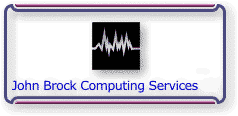 This is the contact page of John Brock Computing Services.
If you need help on any of the hardware or software provided by me at any time in the past, please click support.
Here you will find all the relevant details regarding my services provided to clients.
If you need to purchase or want to discuss any of my products, please click on products.


---
John Brock Computing Services
[Helping people with "computer problems" since 1987]
After two years of paying the Neotel account every month, they cut me off!
Something to do with the RICA documents. Total BS even when emailed they did not respond.
So the number below, no longer works. I would NOT receommend NEOTEL to anyone now!
011 023 6947 WORK NUMBER NO LONGER - Neotel (business)
Skype: johnkbrock (John K. Brock)
Cell Number: Available on request
011 768 1626 (home) (you can leave a message here)
From "Overseas", dial +27 11 and the last seven numbers.


---

______
______